Skip Loading Equipment for 18 Tonne to 26 Tonne Chassis
Safe Working Load of 14 Tonnes to 18 Tonnes
The Powertec range of 18 tonnes to 26 tonnes chassis skip loaders have a safe working load capacity of 14 tonnes to 18 tonnes. The skip loaders are built for safe and easy operation along with strength, durability and reliability.
This Skip Unit can be fitted to any chassis of your choice and comes as standard with independent extending arms and independent rear stabiliser legs.
Powerlift 14000EX Skip Loader
14T to 18T Capacity Skip Loading Equipment
2 Individually adjustable telescopic arms
2 Hydraulic stabilisers
Tipping hooks
6 Mechanical container locking chocks
Fixation chains and shorteners
Finished with single colour top paint
Hydraulic oil tank
Powerlift 12-T-PT Skip Loader
Powertec Vehicle Engineering Ltd are pleased to announce the launch of the new Powertec 12-T-PT Skiploader which is suitable for fitting to most manufacturers 18000kg GVW Chassis.

Designed to CHEM standards the equipment is fitted with many extra features as standard.
Rear light protection
Heavy duty main ram guards
Independent arms
Independent legs
Fast off load system
Dead man button
Full height cab protection
Safety lock tipping hooks
6 x multi position container side and front locks
Adjustable lift chains
The equipment has been designed using the latest technology and materials, resulting in a superior skip loader with increased strength and lower equipment weight.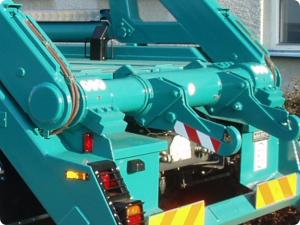 Air-operated tip hooks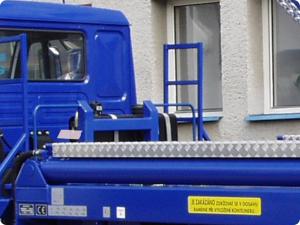 Cylinder protection covers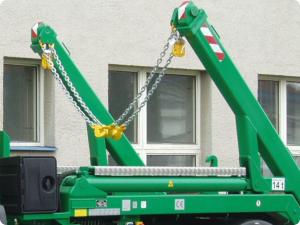 Adjustable telescopic arms