Skip Loading Equipment for 3.5T, 4T and 5T Chassis'
Powerlift 3500EX
The development of our new and exciting product was driven by so many of our customers asking if we could produce a skip loader with telescopic arms that could deliver 3 x 8 Cubic Yard Skips and be mounted onto a 3.5T Gross Vehicle Weight (GVW) Chassis.
Using the latest in design and stress analysing equipment, Powertec have developed a light weight skip loading unit using high grade steels to maximise weight saving and maintain strength.
This equipment comes as standard with independent extending arms and independent rear stabiliser legs.
There are many benefits to having the Powerlift 3500EX skip loading equipment fitted to a 3.5T GVW chassis. The main ones being the fuel saving made when delivering large skips compared with the cost of running an 18T GVW Chassis. This equipment can be driven on a car licence and without an operator's licence.
Totally manufactured in the UK this Skip Unit can be fitted to any chassis of your choice.
Specifications:
1500Kg to 3000Kg Lift Capacity
Independent Extending Arms
Independent Legs
Tipping and Lifting Chains
Valve Block and Hydraulic Oil Tank Fitted
Capable of delivery 8 Cubic Yard Skips
Recessed rear lights
Painted in 2PK Primer
No HGV License Required
Isuzu Grafter 3.5T Chassis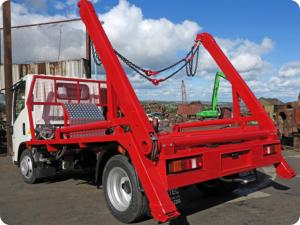 A recent build by Powertec has seen their PS3500 skip loading equipment fitted to the Isuzu Grafter 3.5T Chassis.
The build was commissioned by Environmental Waste Recycling of Clitheroe who decided that the Grafter Chassis was well suited to carry this equipment and that Powertec were the best company to supply it.
This robust and extremely versatile piece of equipment will play a vital role in the delivery and collection of skips from 2 cubic yard to 8 cubic yard and return significant savings on fuel, maintenance and operator costs.
The Isuzu Grafter with its powerful 150 bhp engine has more than enough power to cope with any job it is asked to do.